Alright, it has been more than two weeks. That's how neglectful of my faithful blog readers I've been!
Anyhow, we celebrated Roger's birthday on his actual birthday, June 19th. We had a Wiggles themed party, although I didn't bother ordering (or trying to find) Wiggles cups and plates. We just went with brightly colored things! We got a helium kit and red, blue, yellow and purple balloons to give the party a more Wiggly feel. We did a painting with food coloring at the party, the idea was for this to be at "Anthony's Workshop" but I didn't make a sign or anything, and most of the individuals wouldn't be aware of that song anyway. And we made fruit salad. : ) That ended up working VERY well. I had prepared the cantaloupe by cutting it into large slices, I had cut the bananas in half and I'd washed the grapes. The kids had plastic knives and sliced the cantaloupe and bananas, and some sliced the grapes also, then they got to eat the fruit salad that we'd made.
We also had Wiggles music playing and a Wiggles cake. Here's a pic: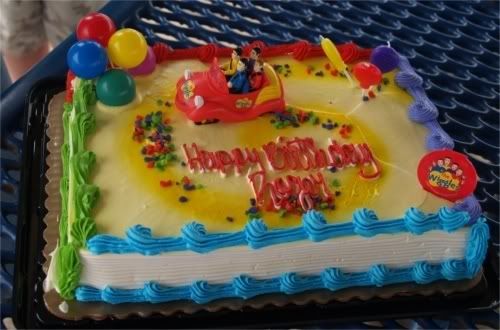 Roger really liked this cake, and he still loves the Big Red Car toy that came on it. We got it from Dillons.
Roger's cousins Romy, Eddie, Beth and Heather made a long trip to come down for the party! He was so glad to see them, and so was Pauly! His cousins Mack and Elias also came and had a blast, as did his friends Tom, Katie and Ellis (and Ellis's big sisters!).
The negative was the weather. We had the party at an open shelter at our local park. Unfortunately with all the rain we'd had before the party, the floor of the shelter was flooded. There were HUGE puddles of water all around. : ( Rosemarie and Heather liked playing in them, but we weren't sure their clothes would ever be the same.